Re-wiring your boat trailer lights is an important part of ensuring safe operation on the road. The wiring system can become damaged or corrupted over time, making it difficult to see the trailer and potentially creating a dangerous situation for other vehicles on the road. Learning how to re-wire your boat trailer lights can help ensure your trailer is always visible.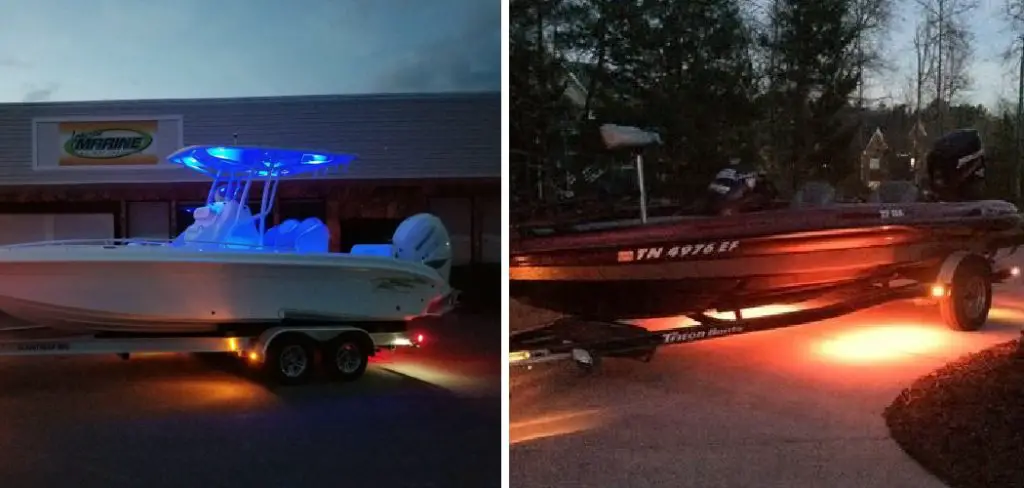 Rewiring your boat trailer lights can be beneficial to ensure they are in proper working condition. By rewiring the lights, you can avoid potential hazards and expensive repairs caused by frayed or exposed wires. This article will provide easy steps to rewire your boat trailer lights properly. In this blog post, You will learn how to rewire boat trailer lights.
Tools You Will Need
Phillips head screwdriver
Wire strippers
Electrical tape
Heat shrink tubing
Plastic wire connectors
Two rolls of 14 gauge green, yellow and brown wire
A pair of pliers or an adjustable wrench
An electrical tester
A protective eye covering
Now that you have all the necessary tools to rewire your boat trailer lights, you're ready to start.
Step-by-step Instructions for How to Rewire Boat Trailer Lights
Step 1: Inspect the Trailer Wiring
When rewiring a boat trailer, the first step is to inspect the entire wiring length. Look for any signs of corrosion, fraying, or damage that may need to be replaced. Using a screwdriver, disconnect the existing wiring from the battery and make sure all connections are disconnected from the trailer.
Step 2: Locate and Remove Old Wiring
Locate the old wiring that needs to be replaced. Use a pair of pliers to remove it from the trailer, being careful not to damage any nearby components. Attach the new wiring using electrical tape or soldering iron to the trailer frame. Make sure all connections are secure and waterproof.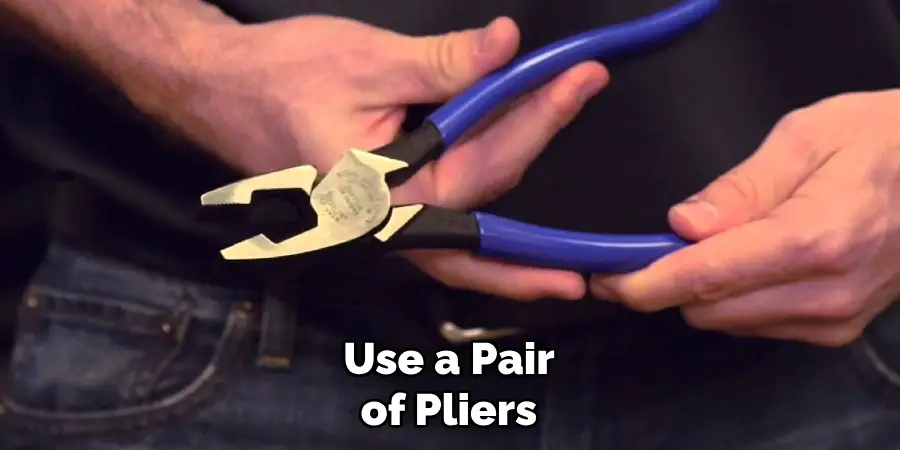 Step 3: Install New Lights on Trailer Frame
Using the manufacturer's instructions, install new lights onto the trailer frame. Double-check that each light is attached securely before moving on to the next step. Connect the new wiring to the battery with a screwdriver, ensuring all connections are secure.
Step 4: Test Lights Connections
Continuing the previous step, test each light connection by connecting it to a 12V power source and turning on the lights. If everything is working correctly, the lights should light up. When all the connections have been tested, connect the ground wires to ensure a safe connection between the trailer and the tow vehicle.
Step 5: Test Lights Again
Once all connections are secure and ground wires connected, turn on the lights again to ensure they are working correctly. Finally, connect your trailer to the tow vehicle and hit the road. Now that you know how to rewire boat trailer lights, you can have peace of mind whenever you take your boat on a getaway.
Tips for How to Rewire Boat Trailer Lights
Ensure you have the right amount of wiring and supplies – Before starting work, ensure you have enough wire to rewire all lights.
Use only waterproof parts – Marine-grade wires and connectors should be used to ensure a safe and reliable connection, even in wet conditions.
Check for corrosion or damage – Check all wires and connectors for corrosion or any other damage before starting work.
Use the right tools – Use the proper tools to strip, cut, splice, and connect the wiring.
Wear safety equipment – Wear protective clothing such as gloves and eye protection when handling wires or working on electrical circuits.
Practice makes perfect – To ensure your connections are secure, it's a good idea to practice wiring on scrap pieces of wire before you start rewiring your lights.
Test everything twice – Before hitting the road, double-check all connections and test that each light operates correctly. This way, you can be sure that your rewiring was successful.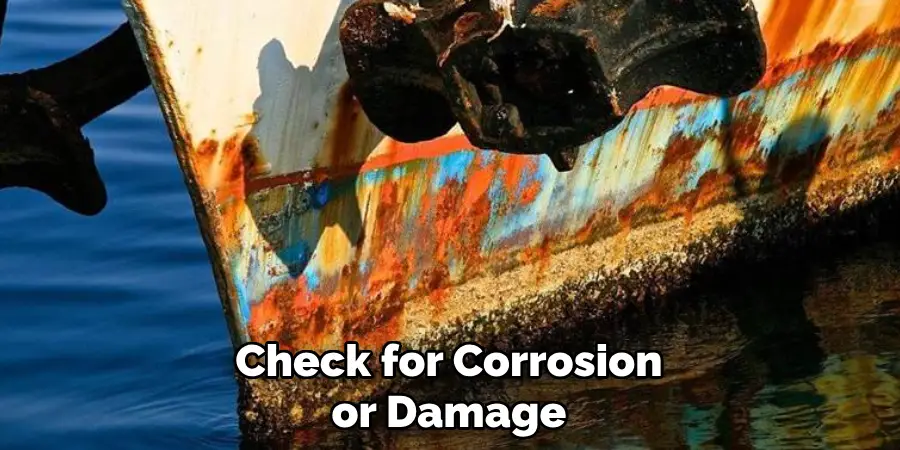 These tips can help ensure your boat trailer lights are rewired safely and correctly, so you can get out on the road worry-free.
How Much Wire Will You Need to Complete the Task?
The amount of wire you will need to rewire your boat trailer lights depends on the size and type of lighting system used. Generally speaking, using a minimum of 14-gauge stranded copper wires is best to ensure proper current flow and prevent any potential damage to your wiring. If you're dealing with a large lighting system, however, using a larger gauge of wire may be beneficial.
Is There Special Wiring That is Needed for Specific Types of Boat Trailers?
Yes, there are special wiring requirements for different types of boat trailers. For example, if you have a pontoon trailer or a sailboat trailer, the wiring will be different than it would be for other types of trailers. It is important to understand these differences before attempting to rewire your boat trailer lights. It is also important to remember safety when rewiring boat trailer lights.
Ensure that any electrical connections you make are secure and that the wiring is protected from any potential sources of moisture or damage. If you don't feel confident with an installation, consult a professional. Once your boat trailer is wired correctly, it is important to ensure all the lights function properly.
You should test the brake lights, turn signals, and any other lighting features of your trailer. This will help you ensure the safety of your vehicle, as well as that of other drivers on the road.
How Long Will It Take to Complete the Task?
The amount of time needed to rewire boat trailer lights depends on the complexity of the wiring and how familiar you are with electrical work. In general, completing the job should take at most a couple of hours.
If you are not comfortable doing the wiring yourself, then it is recommended that you seek professional help. This will ensure that your lighting system is installed correctly and safely. No matter what you decide to do, it is important to take the time needed to rewire your boat trailer lights properly. It will help ensure your safety on the road and that of other drivers.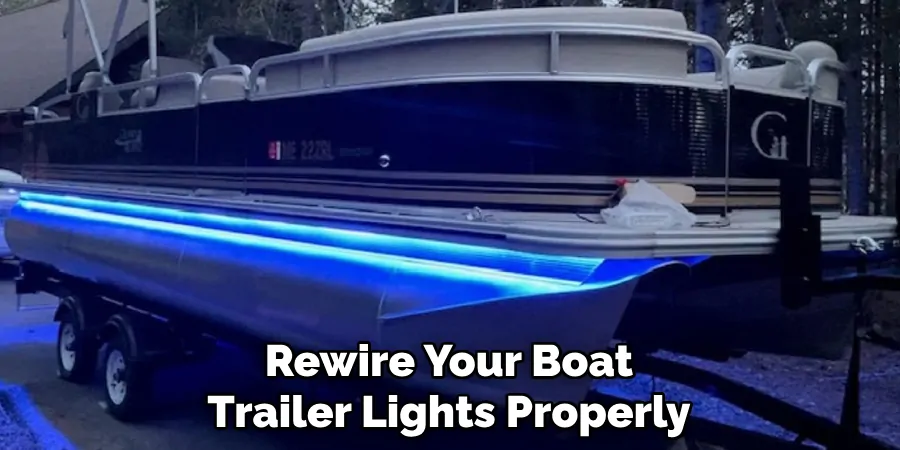 Are There Any Regulations or Codes You Need to Be Aware of When Rewiring Your Boat Trailer Lights?
It is important to know the regulations and codes when rewiring your boat trailer lights. Many states have specific requirements for lighting on trailers, such as the number of lights required and their placement on the trailer.
Additionally, many areas require that wiring adhere to local and national electrical standards. Before beginning a rewiring project, check with local and state regulations to ensure compliance. This will help ensure that your rewiring project is done safely and correctly the first time.
In addition to understanding the laws and regulations, it is important to understand the basics of wiring boat trailer lights. The most common type of wiring used for boat trailers is 12-gauge wire. This type of wire is suitable for carrying higher voltage loads than other types, such as 14-gauge or 16-gauge. Ensuring the wire is properly secured and insulated is important, as exposed wires can be a serious safety hazard.
Is Using Waterproof Connectors and Wire for Rewiring Boat Trailer Lights Necessary?
Yes, it is important to use waterproof connectors and wires when rewiring boat trailer lights. This will help prevent corrosion and other electrical problems from occurring due to exposure to moisture. If you plan on using the wiring in wet conditions, such as near a lake or ocean, it is vital to ensure the connectors and wire are waterproof.
You can purchase waterproof connectors and wires from your local hardware store or online. Waterproofing the connections is not only important for safety, but it will also help maintain the longevity of the wiring. If moisture seeps into the connection points, it can lead to corrosion and other electrical problems. Therefore, using waterproof connectors and wire will ensure your rewiring project is safe and lasts longer.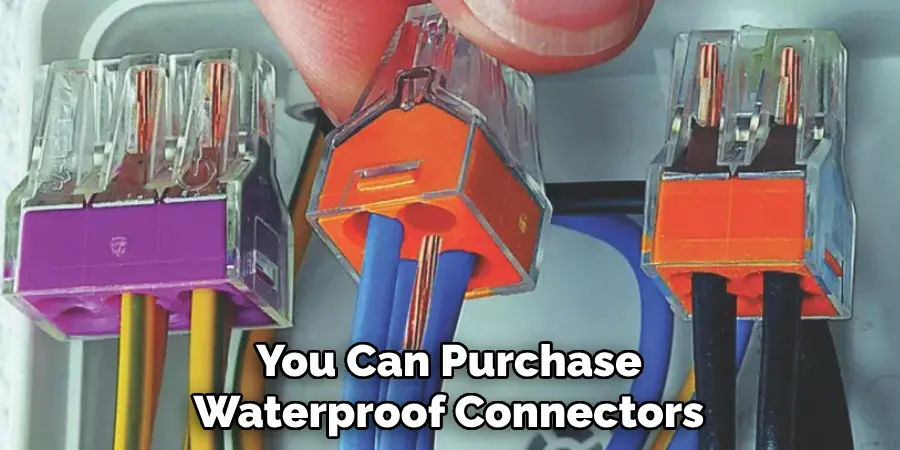 Conclusion
In conclusion, rewiring boat trailer lights is an important skill for a boat owner. It's not always easy and may take time, but the effort is worth it. Following the steps outlined in this article, you can ensure that your boat trailer lights are properly wired and functioning before you hit the water.
If you're unsure what to do, you can consult a professional for assistance. I hope reading this post has helped you learn how to rewire boat trailer lights. Make sure the safety precautions are carried out in the order listed.