Do you want to add some holiday cheer but don't know where or how to start? Then look no further – this blog post will provide step-by-step instructions on how to construct a festive Christmas bulb wreath that would have anyone in awe of its beauty!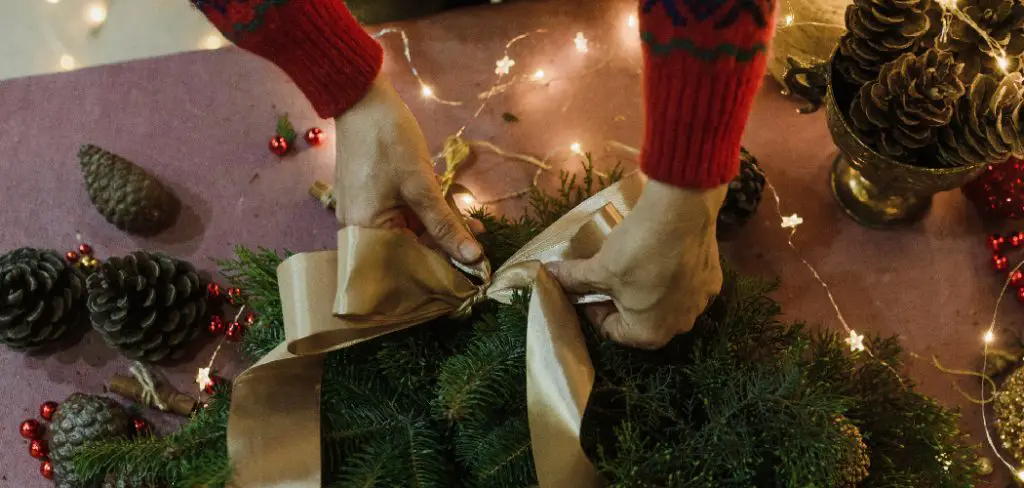 This is an easy way to bring the joys of the holidays into your house, creating something both family and friends can admire.  Not only will this unique decoration make your front door sparkle with holiday cheer, but it could become an essential part of many family traditions and memories or even be used as a one-of-a-kind cover or decorations for other items in your home!
So grab some supplies, break out those scissors, and get ready as we guide you through everything you need to know about how to make a christmas bulb wreath!
What Will You Need?
To make a christmas bulb wreath, you will need the following supplies:
Styrofoam Wreath Form
Assorted Christmas Bulbs (bulbs in different colors, shapes, and sizes)
Ribbon of Your Choice
Hot Glue Gun & Glue Sticks
Scissors
Decorative Ornaments & Accessories (optional)
Once you have collected all the supplies and materials you need, it's time to start putting your wreath together.
10 Easy Steps on How to Make a Christmas Bulb Wreath
Step 1. Wrap the Styrofoam Wreath
Start by wrapping the Styrofoam wreath with ribbon. Make sure to wrap the entire wreath so the form is completely covered with ribbon. This will make it easier to secure the bulbs and other decorations later on. Additionally, you can cut and glue the ends of the ribbon so it doesn't unravel.
Step 2. Secure the Ribbon
Once you have completely wrapped the wreath, use hot glue to secure the ends of the ribbon in place. Make sure that all sides are firmly secured so they do not fall apart when you add decorations. If needed, you can use thumbtacks or push pins to hold the ribbon in place while the glue dries.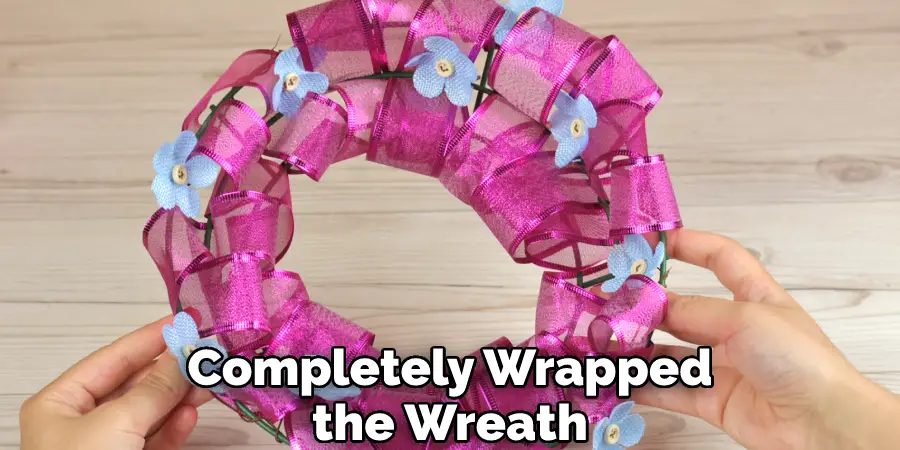 Step 3. Start Adding Bulbs
Now that your wreath is securely wrapped with ribbon start adding Christmas bulbs! Begin by picking out larger bulbs first and carefully attach them to the wreath using a hot glue gun. You can either cover the entire wreath or leave some spaces between each bulb for a more unique look.
Step 4. Add Smaller Bulbs
Once the larger bulbs are in place, start adding smaller ones to fill in any gaps. Make sure to mix up colors and shapes for a more interesting look. This will also make the wreath look more festive and eye-catching.
Step 5. Decorate with Accessories (Optional)
If you want to add extra decorations such as glittery ornaments, snowflakes, etc., you can use hot glue to attach them around your wreath. This is an optional step but it will definitely make your wreath pop! Moreover, you can even glue a bow or small bells for added effect.
Step 6. Add Ribbon Bow (Optional)
Now that the main part of your wreath is finished, you can add a ribbon bow for an extra touch of holiday cheer. Use hot glue to secure the bow and ribbons in place. It's best to use a red or green ribbon for an extra festive look.
Step 7. Hang Your Wreath
You're almost done! To hang your wreath, you can either use a Command Strip or a nail, depending on what surface you will be hanging it on. Make sure to securely fasten the wreath so that it does not fall off the wall or door. You can also use a wreath hanger if you do not want to use a nail.
Step 8. Stand Back & Admire Your Work
Now that your fantastic Christmas bulb wreath is all finished take a moment to admire your work! Be careful not to touch the bulbs or decorations, as they could easily come undone. Instead, just admire the beauty of your creation from afar.
Step 9. Show It Off
Don't keep your hard work all to yourself – show off your stunning wreath by displaying it on the front door or any other area of your house! You can also share it with friends and family so they can admire your handiwork as well. Another great thing about a Christmas bulb wreath is that it can be used year after year, so you can always enjoy the fruits of your labor.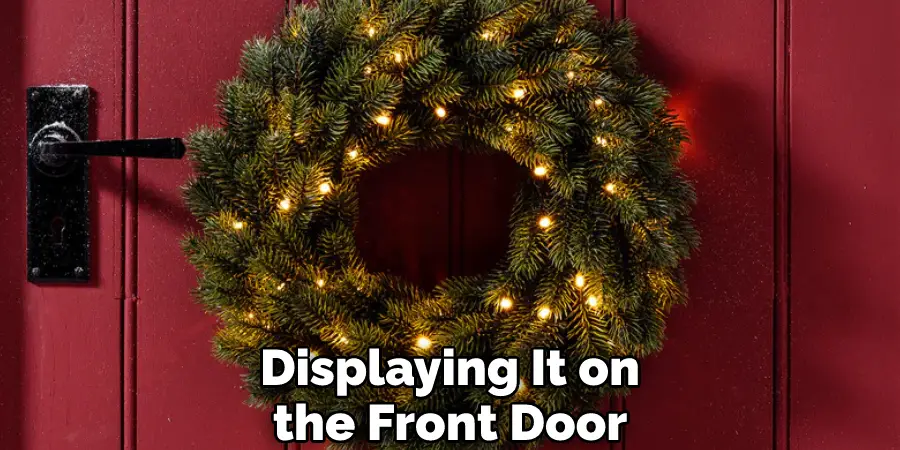 Step 10. Enjoy!
You did it – your very own Christmas bulb wreath is now ready to be enjoyed! Now, sit back and enjoy the beauty of your creation! Remember that you can always switch up the colors, bulbs, ribbons, and other decorations so your wreath is truly unique. Have fun with it!
Following these simple steps, you can easily create your unique and festive Christmas bulb wreath to add a little holiday cheer to any part of your home. This is the perfect way to make your home sparkle and stand out this season!
Happy Crafting!
5 Additional Tips and Tricks
1. If you want to create a unique look, try using strings of different-sized Christmas bulbs. By mixing up the sizes, you can add interest and dimension to your wreath design.
2. To get an even distribution of lights, use a piece of paper or cardstock and draw a circle in the center for the lightbulb string to wrap around. This way, all your Christmas bulbs will be evenly spaced out.
3. To hang your wreath on the wall or door, consider attaching fishing wire or thread to the back side of the frame before adding any decorations. That way, it'll be easier for you to secure when you're finished making it!
4. If you're looking for an easy way to cover the frame, use ribbon or fabric. You can easily tie it around the frame and secure it with a knot.
5. Once you're finished decorating your wreath, test out all the lights and batteries before hanging it up! That way, you know that everything is working correctly and your wreath will look perfect for Christmas.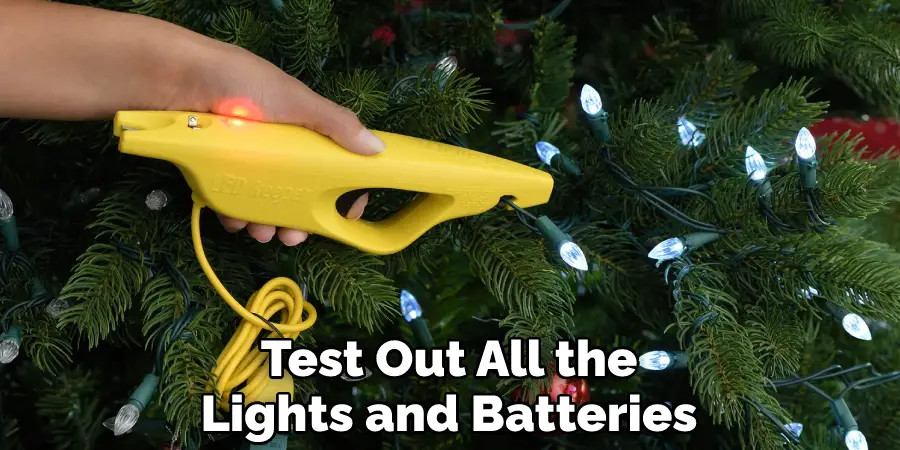 By following these tips and tricks on how to make a Christmas bulb wreath, you should have no problem creating your own festive decoration this holiday season!
5 Things You Should Avoid
1. Not Having Enough Lights: A Christmas bulb wreath looks best when it's full of lights, so make sure you have plenty of them before you start.
2. Not Using Glue to Secure the Lights: If you don't use enough glue, your lights may come off easily and ruin the look of your wreath.
3. Over-stuffing the Wreath With Bulbs: You want it to look full but not too crowded – otherwise, it won't have any character or texture.
4. Using Low-quality Bulbs: Low-quality bulbs won't last as long as high-quality ones, so make sure you invest in good quality Christmas bulbs for your wreath.
5. Skipping Out on Decorations: To take your wreath to the next level, add some fun decorations like festive ribbons or pinecones! This will make it look extra special and really stand out.
Following these tips will help you create a beautiful Christmas bulb wreath that is sure to bring holiday cheer to your home this season. Happy crafting!
5 Different Design Ideas
1. Traditional: Create a classic look with red and green Christmas bulbs. It's the perfect way to bring the traditional holiday spirit into your home.
2. Festive: For a whimsical and fun design, mix in a variety of colors like blues, purples, and yellows. This will bring a unique and festive feel to your wreath.
3. Bright: Create a cheerful and vibrant look with bright and whimsical bulbs, like pinks and oranges. This is sure to bring a smile to your face!
4. Rustic: Use natural wood beads, twine, and pinecones to create a rustic look. This will add warmth and coziness to your decor.
5. Elegant: Use white and gold bulbs to create an elegant and sophisticated look. This is perfect for a classic holiday style.
No matter which designs you choose, your Christmas bulb wreath will look beautiful and add a festive touch to your home. Have fun creating!
Conclusion
Making a Christmas bulb wreath is an enjoyable way to get into the holiday spirit. Not only does it add a fun and festive touch to your home, but it also requires minimal effort and costs.
With just a few simple steps on how to make a christmas bulb wreath, you can easily create a one-of-a-kind Christmas bulb wreath for your front door or mantle. Whether you choose to collaborate with friends or tackle this project solo, there's no doubt that DIY projects like this will bring joy and excitement into your home this season.
Have fun, be creative, and don't forget to take plenty of pictures as you go along! From stringing colorful bulbs to adding extra decorations and embellishments, your handmade Christmas bulb wreath will be something family, and guests will remember long after the holidays are over. Enjoy making this special addition to your home this season!