Are you ready to create the perfect atmosphere for Halloween in your yard? As the nights grow darker and shadows start to fill the streets, it's time to get ready for Halloween! If you want your house to be the most talked-about on the block this year, nothing will do that better than a spooky outdoor light display.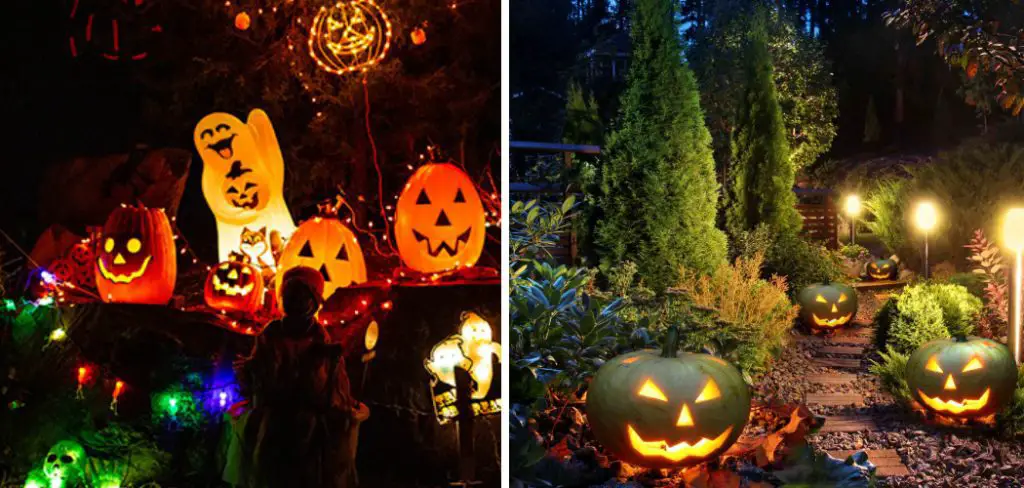 Putting together an alluring outdoor setup won't just make your house look great – but it also allows you to embrace the spookiness of Halloween with friends and family in a safe way.
So if you're looking for some ideas on how to light up your yard for Halloween, keep reading! We'll give you some top tips on creating festive displays, and buying lighting essentials, and other decor items – so let's get started! Here we'll provide some simple tips on how to light up yard for Halloween so that you can easily transform your outdoor space into something truly unique and special (even on a budget!) this All Hallows' Eve.
What to Keep in Mind While Lighting Up Yard for Halloween?
1. Safety
Before you start decorating your outdoor space for Halloween, there are a few things to keep in mind. Primarily, safety should be a priority – so check the area for tripping hazards and make sure that any wiring is safe. Additionally, if you're using projection spotlights or lighting strings, ensure they're certified for outdoor use. Finally, never overload your outlets and never leave wiring exposed.
2. Color Combinations
When it comes to making an outdoor space look great for Halloween, color is key! Red and orange are classic Halloween colors, while purple can give a spooky yet elegant vibe. You can also play with shades of blue and green if you want something more mysterious looking. Add in some white lighting, too, for a dramatic effect.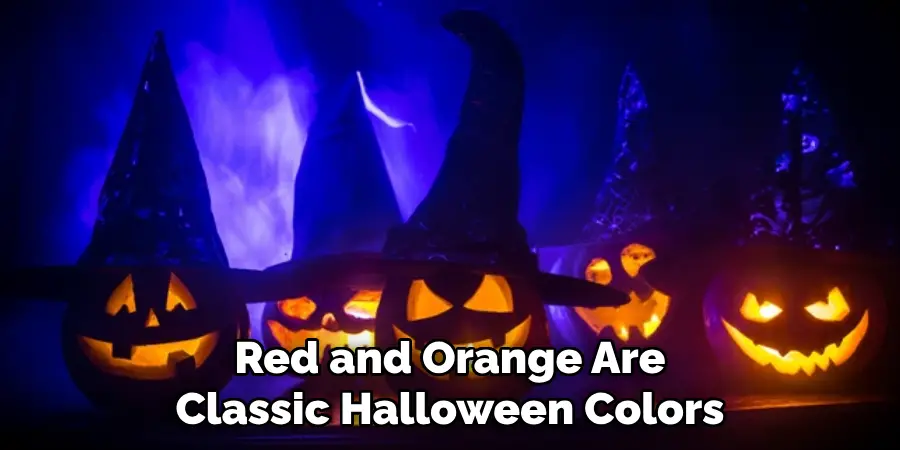 3. Light Effects
There are various light effects you can choose from to really bring your outdoor space to life. For instance, try using dimmers to create ambiance and strobes for a spooky vibe. You could also use spotlights as they create bright pools of light in certain areas, which can be very effective.
4. Lighting Essentials
There are a few key lighting essentials you'll need to put together an impressive display. You'll need some colored string lights, as these look great when draped over trees or along fencing. Spotlights are also essential for highlighting certain areas of your yard and creating dramatic pools of light. Finally, it's a good idea to have some battery-operated tea lights as they can be used in many different ways.
5. Other Decor Items
Finally, you don't have to just rely on lighting to create the perfect look for your outdoor space this Halloween. You can add in other elements like fake spiders and cobwebs, plastic skulls, pumpkins, and other spooky decorations. You could even get creative with it and create something totally unique – such as a 'witch's brew' or a giant spider web made from rope!
Choosing the Best Light Sources
1. Bright Light
Once you've decided how to light up your yard for Halloween, the next step is selecting the right type of lighting. You want something that's bright enough to show off your decorations and spooky enough to set the mood.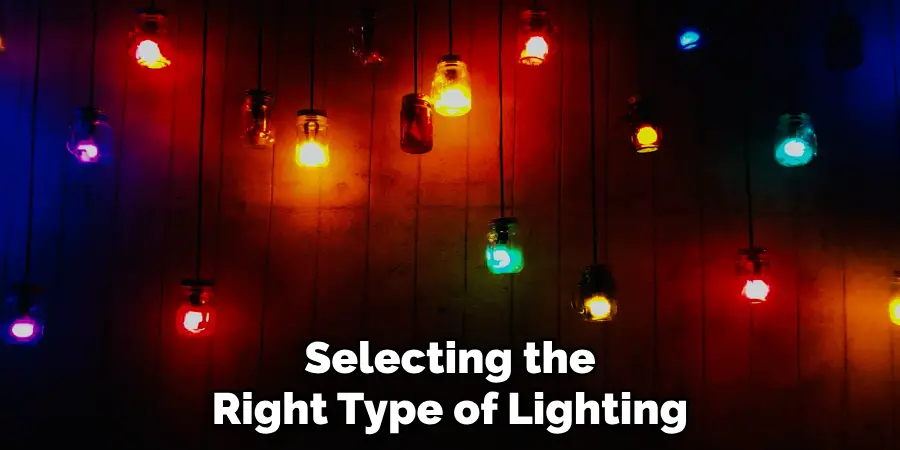 String lights are an excellent option for outdoor Halloween decorating. They provide plenty of illumination and come in a variety of shapes and colors to match your Halloween theme. The traditional orange and black lights are classic, but you can also find Jack-O-Lanterns, spiders, bats, or just about any other design you can think of.
2. Subdued Lighting
If a bright light isn't what you're looking for, you can create a spooky atmosphere with more subdued lighting. Battery-powered LED candles and lights can be placed around your yard to give it a creepy, eerie feel without being overwhelming.
You can also incorporate glow sticks or flashing lights into your decorations. Place them in the trees, on your porch steps, or anywhere you want to draw attention. They'll add just enough of a spooky touch without being too much.
3. Creative Options
Finally, if you really want to stand out from the crowd with your Halloween lighting display, then get creative! Instead of lights or candles, why not try painting your pumpkins? You can use glow-in-the-dark paint or simply draw spooky faces on them.
Required Items
Whether you're looking to light up the entire front or backyard, or just create a spooky atmosphere in certain areas, there are several items you will need for your Halloween lighting project. Make sure that you have
Extension cords
Lights
Strobe lights
Light stakes or hangers to secure the lights in place
Timers so you can program your lights to come on and off at specific times of the day.
You'll also want to make sure that any outdoor items, such as extension cords and light stakes, are rated for outdoor use. This means that they can withstand the elements and won't be damaged by rain or snow.
How to Light Up Yard for Halloween in 10 Easy Steps
Step 1: Make a Plan
Start by making a plan. Map out your yard and determine how you'd like to light it up. Make sure you mark off the areas where you will be placing extension cords, lights, and other items that should not be covered with decorations. Also, decide whether you want to use strobe lights and/or timers.
Step 2: Choose Your Lights
Choose the types of lights that you will be using. LED lights are a popular choice for outdoor lighting since they're energy-efficient and long-lasting. You can also use string or rope lights to create interesting shapes or outlines in your yard.
Step 3: Set Up Your Lights
Set up the lights according to your plan. If you're using light stakes, use a hammer or screwdriver to secure them in the ground. For areas with trees or other structures, make sure that you hang the lights securely so they don't come loose and create a safety hazard.
Step 4: Connect Your Lights to an Extension Cord
Connect your lights to an extension cord and make sure that the cord is long enough for you to reach all of the lights in your yard. Make sure that you use outdoor-rated cords, as indoor ones may not be able to withstand rain or snow.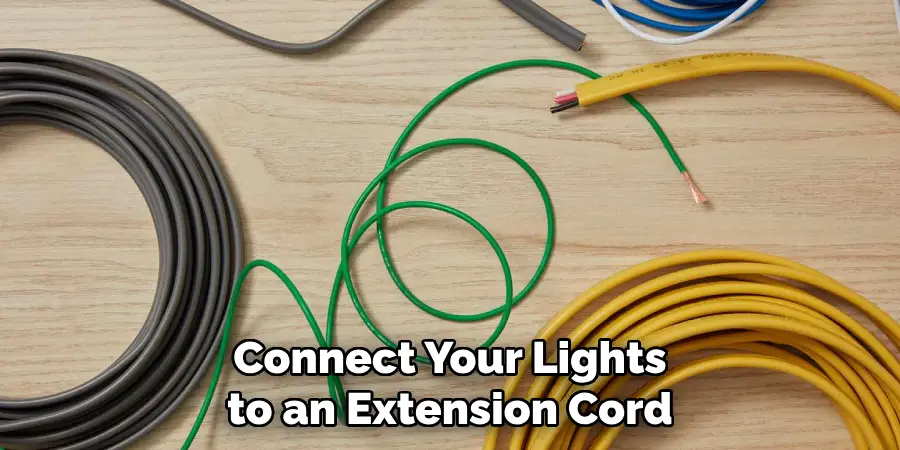 Step 5: Test Your Lights
Before you finish setting up the lights, test them to make sure they all work. You don't want to spend hours stringing and connecting your lights only to find out that some of them don't work.
Step 6: Secure Your Lights
Secure your lights by staking them into the ground or hanging them from structures in your yard. Make sure that the lights are secure, so they don't come loose and create a safety hazard.
Step 7: Add Spooky Effects with Strobe Lights
If you want to create a spooky atmosphere, add strobe lights or other special effects. These can be used to highlight certain areas of your yard or to create a creepy ambiance. Make sure that you keep the lights away from any flammable materials and out of the reach of children and pets.
Step 8: Set Up Timers
Set up timers so that your lights turn on and off at specific times. This allows you to control when the lights come on and off, and you can even set them to turn on automatically when the sun sets.
Step 9: Add Decorations
Add decorations around your yard, such as giant spiders, witches, ghosts, or pumpkins. Hang string lights from trees, wrap trees with rope lights, and add other spooky elements to create a unique look for your Halloween display.
Step 10: Enjoy Your Festive Yard!
Once you've completed these steps, enjoy your festive yard! Make sure to take plenty of pictures and share them with friends and family online so they can see how much effort you put into creating a unique Halloween scene.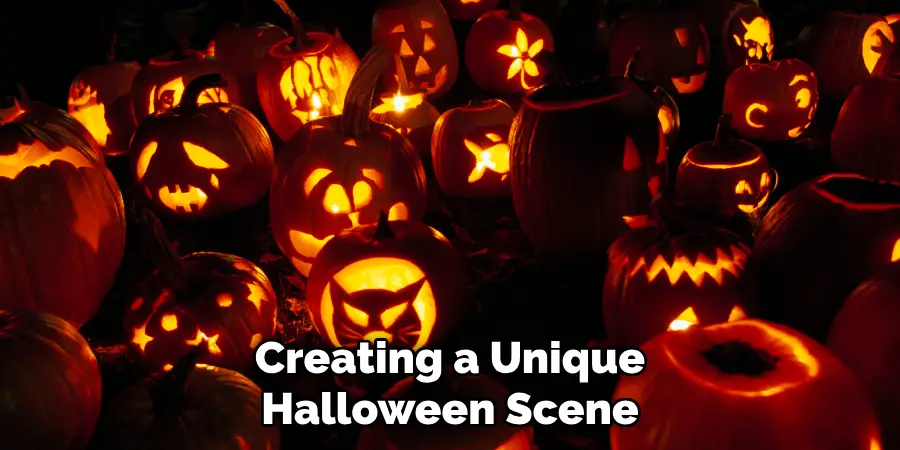 Following these steps will help you create a spooky and festive yard for Halloween. Have fun with your project, and remember to always keep safety in mind while setting up lights and decorations.
Tips & Tricks
If you're using strobe lights, make sure that they are turned off during the day. This will prevent them from draining your batteries or overloading the circuit.
Place any cords and light stakes out of the way so that they are not tripped on by children or guests.
Make sure to turn off all lights when you're done and before going to bed. This will help prevent any accidents or fires from occurring.
Conclusion
After weighing up all the options for lighting up your yard this Halloween, go with whichever method best suits you and your family's needs. It's time to create a spooky and safe atmosphere that everyone can enjoy! Remember, although LED lights often require higher upfront investments, they tend to last for several seasons, so it won't be a decision you have to make every year.
Regardless of whatever decorations you choose, be sure to always follow safety precautions on how to light up yard for Halloween when it comes to electric wiring and outdoor use of lights.
Finally, don't forget the importance of creating an inclusive atmosphere for everyone celebrating Halloween along with getting creative with pumpkin carving and homemade costumes. It'll mean more memories that will last far beyond Halloween night. So light up your yard this Halloween and have a spooktacular, scary, good time with friends and family!