Ready to make your space glow with vibrant neon colors? Are you looking for a way to make your room pop with radiant colors? Would you love to create an ambiance like nothing else in your home? If so, then blacklight decor may be just what you need! Get yourself acquainted with the magical art of blacklight decorating!
Blacklights are an easy, inexpensive way to add a unique atmosphere and ambiance to any room. Not only do they bring life and energy into your home environment, but they also showcase an impressive display of fluorescent artwork. In this blog post, we'll provide all the details you need about how to hang a blacklight that will brighten up any area in your house.
With just a few simple steps, you can quickly hang up your own blacklight in no time. So read on to learn how to successfully hang one of these amazing lights today!
What is a Blacklight?
A blacklight, or ultraviolet light (UV), is a type of lamp that emits long-wave ultraviolet light. This type of light has the ability to make fluorescent materials glow in the dark, as it is able to excite their electromagnetic radiation. Blacklights are often used for special effects in concerts and parties, but with the right materials, they can also be an amazing design addition to your home.
Where Can You Hang a Blacklight?
Blacklights can be hung in any space or room of your house as long as the space is large enough and has access to an electrical outlet. When hung correctly and with the right materials, blacklights will make any room look unique and vibrant in no time!
The Benefits of Hanging a Blacklight
1. Add Style
Hanging a blacklight is not only an effective way to create awesome lighting effects, but it also has a few more benefits. Having one in your home can help you save money on energy costs and electricity bills since UV lights don't use as much power as other types of lamps. Additionally, the fluorescent materials that are activated by the light will last for many years and give you an amazing display of glowing colors that will add style to any room.
2. Create Atmosphere
The atmosphere of your home can be drastically changed just by adding a few simple blacklights. Not only do they create unique lighting effects, but the fluorescent materials that come alive under their radiations also bring life into the room. With this, you can create an atmosphere like no other in your home.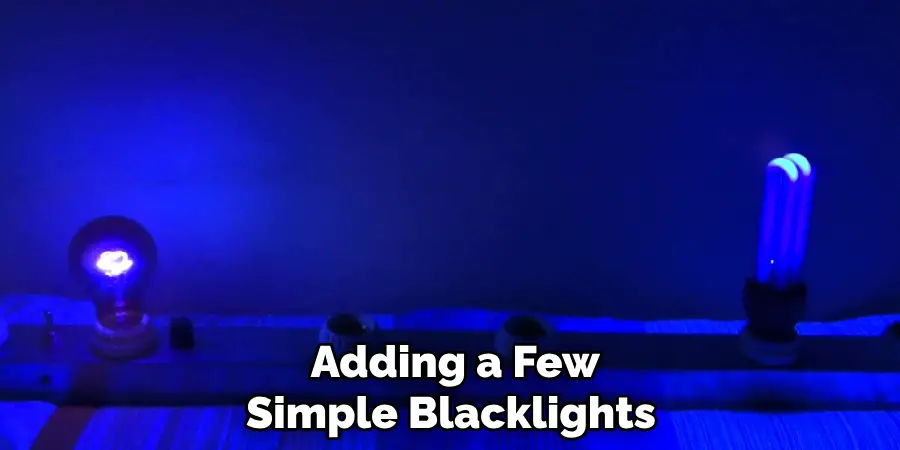 Required Items
Blacklight (or other ultraviolet light)
Lightbulb
Fluorescent Materials (paint, plastic, paper)
Power Source (electricity outlet or generator)
Hanging tools (hooks, nails, screws)
How to Hang a Blacklight in 5 Easy Steps
Now that you know what blacklights are and where they can be hung, let's talk about the steps you need to take in order to hang one. Here is how to hang a blacklight in 5 easy steps:
Step 1: Choose your Placement
Select an area or room in your home that will accommodate your blacklight. Make sure it is near an electrical outlet and that the area has enough room for you to attach your light bulb and other materials. While choosing your placement, consider the angle and direction of the light to ensure you get the best effect.
Step 2: Install your Hooks
Once you have selected the perfect spot for your blacklight, it is time to install your hanging hooks. This can be done with either nails or screws or any other type of hook that will fit in the area. Make sure you install the hooks in a way that will allow for easy access and maneuverability when you go to hang up the blacklight.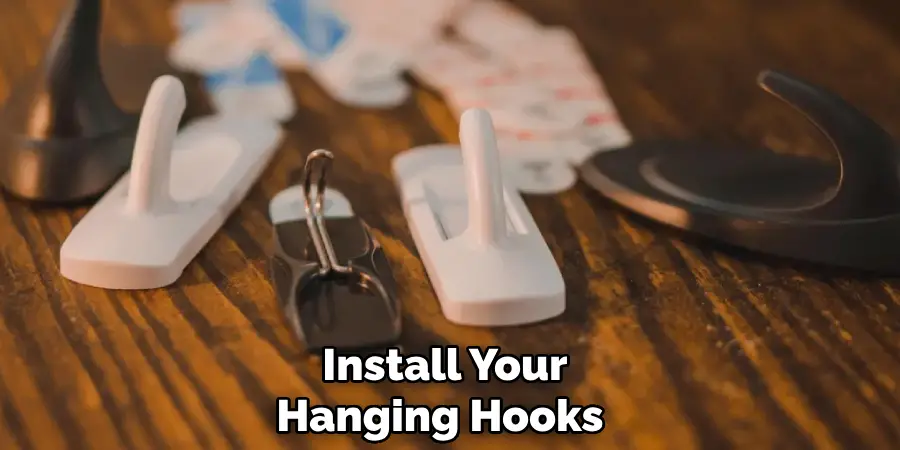 Step 3: Hang Your Blacklight
Now it is time to hang your blacklight. Start by taking the lightbulb out of its packaging and attaching it to the hook in your chosen spot. Next, attach the blacklight itself using a hook or other hanging device. Make sure you secure each piece safely and securely before moving on to the next step.
Step 4: Attach Fluorescent Materials
Now that your blacklight is hung, it's time to add some fluorescent materials for a unique display. You can choose any type of material you would like, from paint to plastic to paper. Once you have selected the materials, attach them securely around the blacklight and plug in your power source.
Step 5: Test your Blacklight
You are almost finished! Now it is time to test out your blacklight and make sure everything works properly. Turn on the light and observe how it looks. If all is good, you can enjoy your new blacklight and the amazing display of fluorescent materials it creates!
With these five easy steps, you'll be able to successfully hang a blacklight in no time. Create a unique atmosphere in your home with these awesome lights, and enjoy the vibrant colors they bring into any room! 
8 Safety Precautions to Follow When Hanging a Blacklight
When it comes to hanging blacklights, there are certain safety precautions you need to take in order to prevent accidents and damage. It's important to follow these steps carefully for your own safety, and the safety of others.
Make sure that your blacklight is certified for indoor or outdoor use according to its manufacturer's guidelines. If you don't have the right kind of blacklight, you could end up with an electric shock or a fire.
Make sure that you have all the necessary tools and supplies before beginning your project. This will help to ensure that everything is in order and ready to go when it comes time to hang your blacklight.
Choose the location for your blacklight carefully. Make sure that it is safely away from anything that could be a fire hazard, like paper or fabric curtains.
Ensure that you have all of the necessary safety gear, including gloves and a face mask to protect yourself while working with the light. Ensuring your safety is the top priority.
Have someone help you when it comes time to hang up the blacklight, especially if it's a large or heavy one. Two people working together will ensure that the task is done safely and quickly.
Make sure that you have the right tools for the job, such as a level and a drill to mount the blacklight.
When connecting the light fixture to an electrical source, be sure to follow all safety guidelines and instructions provided by your local electrician or manufacturer.
Once you've hung your blacklight, test it out carefully to make sure that everything is working properly.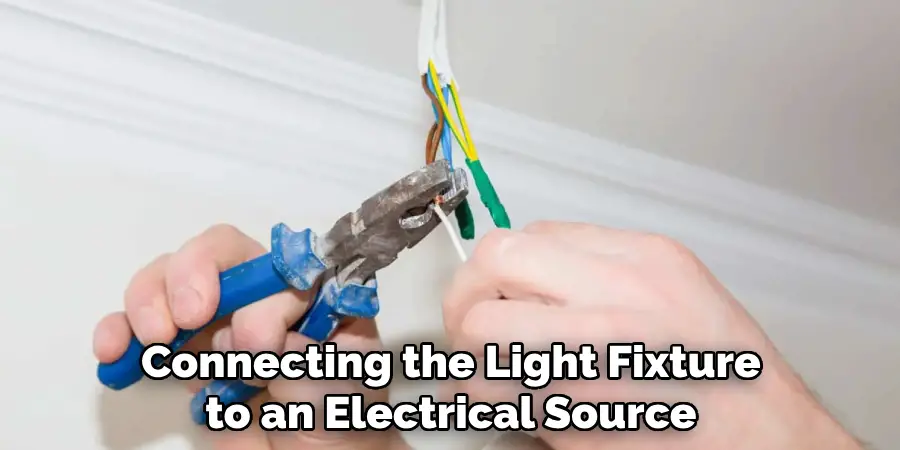 Hanging a blacklight can be a fun and rewarding experience, as long as you are following all safety guidelines. Make sure to follow these steps each and every time for a safe and successful project!
5 Tips for Enjoying Your Blacklight Even More
Now that you've successfully hung your blacklight, there are plenty of ways to make the most out of it. Here are some tips on how to get the most out of this fun and unique light source:
Buy some special blacklight responsive objects, such as glow-in-the-dark stars, to hang around your blacklight for a unique and cool effect. It will automatically add a touch of whimsy to any room.
Consider using blacklight reactive paints or sprays to create special effects with your walls, furniture, or other surfaces in the room. You can make your own glowing art!
Buy some fluorescent materials to hang around your blacklight and create a vibrant atmosphere in the room. You can also use them as decorations for parties or events.
Use your blacklight to explore the world of ultraviolet light photography, which is an art form that utilizes special UV filters on cameras to capture amazing images in a completely different way than traditional photography.
Finally, don't forget to have fun with your blacklight! Try using it in different ways, such as for dramatic lighting effects or special effects. You might even consider taking it outdoors for stargazing or night photography!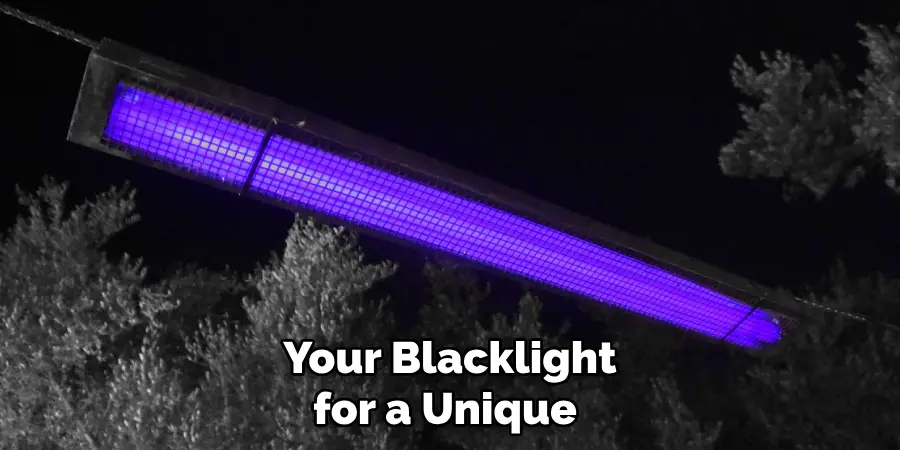 With these tips and tricks, you'll be able to enjoy your blacklight more than ever before. Have fun exploring all the possibilities with your new light source!
Conclusion
Hanging a blacklight can be an exciting experience that opens up a world of creative possibilities. As long as you follow all safety guidelines and use your own creativity, you'll be able to find ways to make the most out of this unique light source. All in all, hanging a blacklight is easy and fun!
With the right materials and methods, you'll never be left lost and confused! Keep these tips in mind when you want to hang one up in any of your spaces. Don't forget to invest in some quality UV reactive paint or prints to really take your setup to the next level.
You don't always have to stick with tradition – get creative! Have fun with it – after all, it is yours. And now that you know how simple it is, why not go ahead and start planning your own blacklight-filled space? Let us know what sort of environment you come up with, or share any further tips and tricks regarding DIY methods of how to hang a blacklight with your friends and family.