With summer just around the corner, you may dream of ways to turn your outdoor space into a relaxing spot to enjoy an evening with friends and family. Adding lighting is one of the simplest (and most affordable) ways to make your backyard oasis come alive – especially for a nighttime gathering.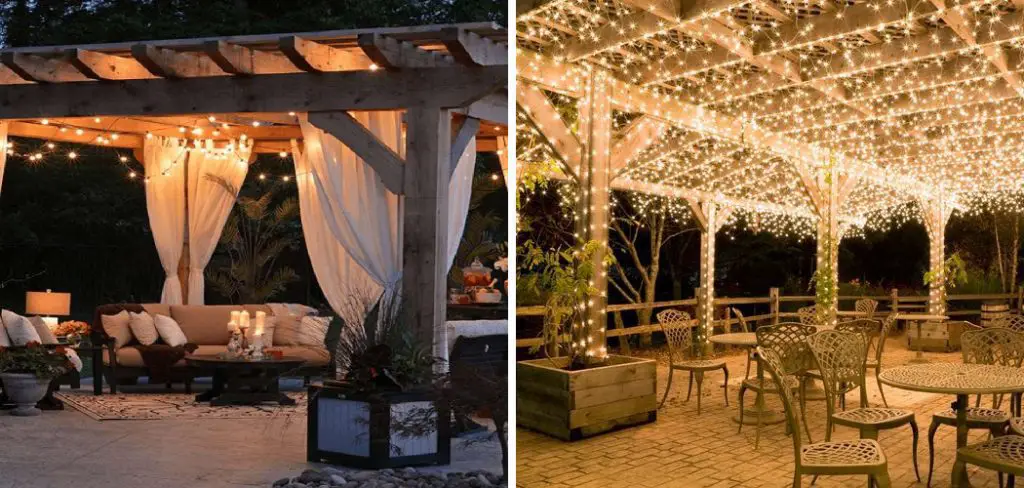 If you're lucky enough to have or are looking at installing a pergola in your garden, you're already creating many possibilities for using lights as decoration! In this article, we will look at some ideas on how to decorate a pergola with lights to give yourself an outdoor living space that everyone admires.
9 Best Ways on How to Decorate a Pergola With Lights
1. String Lights:
These are one of the most popular ways to light up your pergola – and with good reason! String lights instantly add an inviting warm touch, as well as create a romantic feel for any outdoor area. Additionally, they come in various shapes, sizes, colors, and styles so you can find lighting that complements your preferences and decorating style.
2. Edison Bulbs:
These vintage-style bulbs are a great way to add extra charm and character to your pergola. They may be small, but the unique look of each bulb will give your space an eye-catching glow that's sure to turn heads. Edison bulbs are available in a variety of colors and sizes, so you can find just the right one for your pergola.
3. Candle Chandeliers:
These are perfect if you want to create an intimate light setting for your outdoor space. A candle chandelier will add instant sophistication and beauty to your pergola area. Whether you choose a small, simple one or a large, intricate piece, the result will be breathtaking. This method of lighting offers both a practical and aesthetic solution for your pergola.
4. Pathway Lights:
Using path lights is an excellent way to mark pathways or steps leading up to your pergola area. This type of lighting can also be used as accent pieces along the sides of the structure, creating a subtle yet stunning look that's sure to impress. This will also make your outdoor space safer, as the lights will help you and your guests find their way around.
5. Hanging Lanterns:
Adding hanging lanterns to the pergola beams is a great way to add more light while creating an inviting atmosphere. These classic pieces come in various sizes, colors, and materials, so you can find one that suits your taste and decor. Plus, they'll look great when illuminated at night – making them a truly unique way to make your pergola area shine!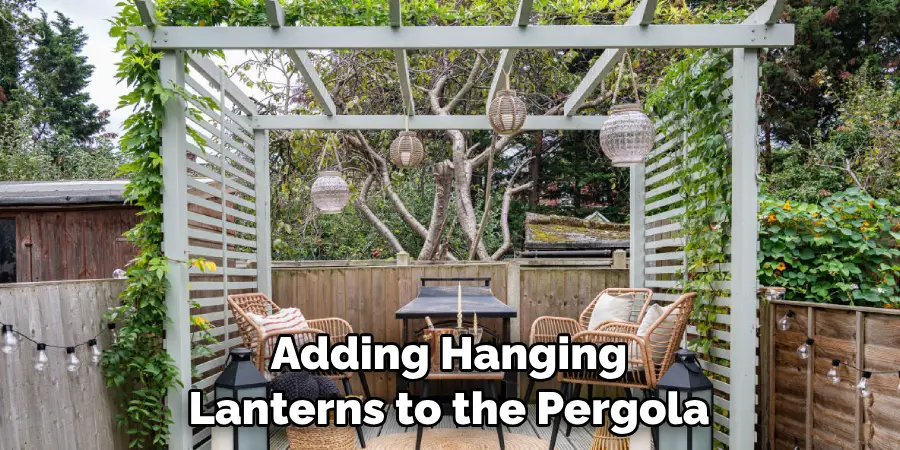 6. Spot Lights:
Spotlights are perfect for highlighting certain areas of the pergola or garden, such as statues or other decorative pieces. These lights come in various colors and styles, so you can find one that best suits your space. Plus, they're relatively easy to install and don't take up too much energy – making them an ideal choice for lighting your pergola area.
7. Fairy Lights:
These are a great way to create a magical atmosphere in your outdoor living area. Not only do they offer enough light to guide your way around the pergola, but they also create an enchanting look that will make your space feel extra special. Plus, fairy lights come in a variety of colors and patterns – so you can choose ones that match your decorating style perfectly.
8. Wall Lights:
Wall lights are perfect if you want to focus on a certain area of the pergola, such as your seating or dining area. You can also use them to highlight any flower beds or other decorative elements in your garden. Wall lights come in many colors and sizes, so you're sure to find one that works for your space.
9. Post Lights:
Post lights are great for illuminating pathways or stairs that lead up to your pergola area. They're also a good option if you want to add extra light to the area without overwhelming it with too many fixtures. Plus, post lights can be found in various colors and styles, so you're sure to find one that fits the look of your outdoor area.
Decorating a pergola with lights can transform your backyard into an inviting oasis – perfect for any summer gathering. With all these lighting options in mind, you're sure to create a stunning and magical atmosphere that will make your outdoor living area something truly special!
Additional Tips and Tricks to Decorate a Pergola With Lights
1. Use waterproof LED lights to ensure safety and longevity. LEDs last longer than traditional incandescent bulbs, and they're more energy efficient.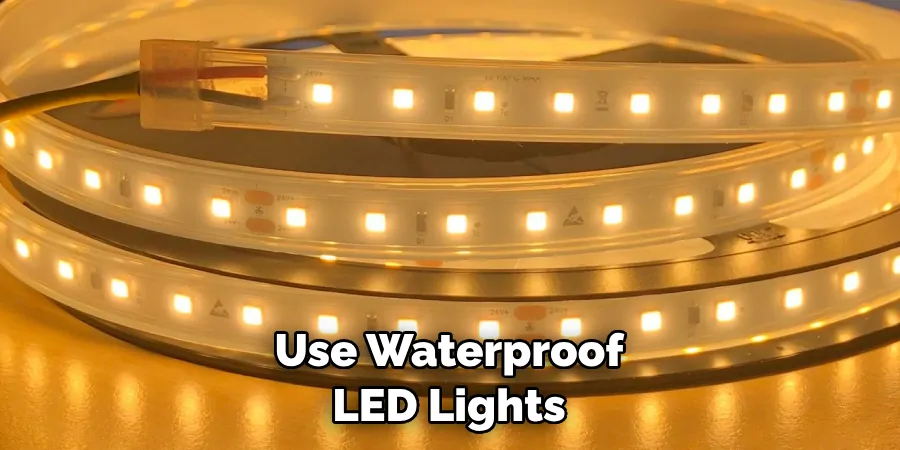 2. Pay attention to the wiring of your pergola: make sure it's installed correctly and meets electrical standards by hiring a professional electrician who specializes in outdoor lighting.
3. Opt for strands of waterproof globe lights to add a bright, inviting atmosphere to the space. These lights come in various sizes and colors, so you can find one that complements your pergola design.
4. Use battery-powered string lights if you don't have an electrical outlet nearby. This is a great way to avoid having to run an electrical line and still get the glow you're looking for.
5. For a rustic look, use bare-bulb string lights to cast an intimate light across the area. These types of lights are great for creating a cozy atmosphere in any outdoor space.
6. Use rope lighting around the edges of your pergola to give it a soft, ambient glow. This is an easy and stylish way to create a relaxing atmosphere in your outdoor space.
7. Add lighted planters or lanterns around the perimeter of your pergola for a low-key look that can be adjusted depending on the mood you want to set.
8. Use dimmers to adjust the level of light in your outdoor space – this will give you more control so that you can create a different atmosphere depending on the occasion.
9. If you want to add texture and visual interest, use fairy lights or sparkle lights for a bit of whimsy and magic. These types of lights will help bring your pergola to life and create a magical atmosphere.
10. Hang LED café lights in clusters to create a festive atmosphere in your outdoor space – this is a great way to bring the indoors out!
By following these tips, you can easily use lights to decorate your pergola and create an inviting atmosphere in any outdoor space. With the right combination of string lights, lanterns, and planters, you can easily transform your pergola into a magical space perfect for entertaining or relaxing.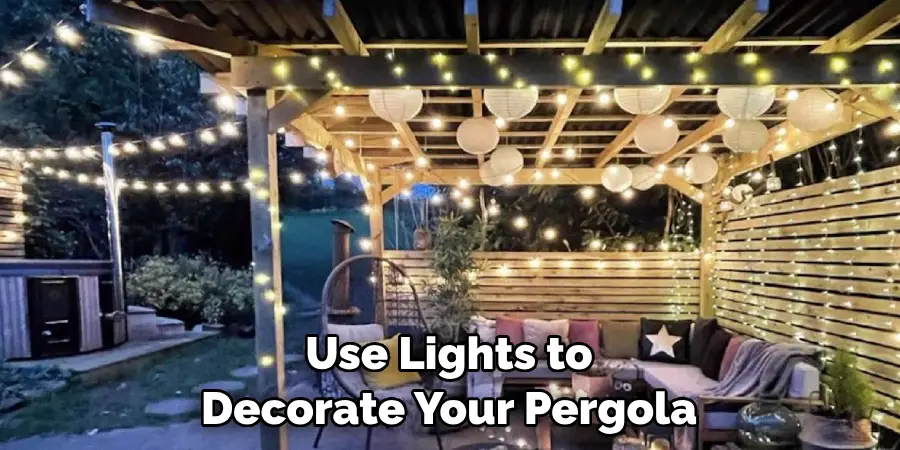 Frequently Asked Questions
What Are the Best Types of Lights to Use for a Pergola? 
String lights are the most popular choice for lighting up a pergola. They come in various lengths, styles, and colors so you can easily find one that fits your taste. Solar-powered LED string lights are also an excellent option as they save energy and money in the long run.
What Are the Different Ways to Hang Lights on a Pergola?
The most common way to hang lights on a pergola is by using clips or hangers. You can place these onto pre-drilled holes, or use zip ties and plastic anchors for smooth surfaces. For high ceilings, extendable poles are ideal to get the desired height.
Do I Need an Electrician to Install Lights on a Pergola?
Most string lights are powered by plugging in, so you don't need an electrician for installation. But if you plan to install more complex lighting fixtures such as dimmer switches or recessed lighting, it is always best to contact a professional electrician.
Can I Hang Lights on My Wooden Pergola?
Yes! As long as you use the right mounting materials and follow safety guidelines, you can hang lights on your wooden pergola without causing any damage.
What Are The Benefits of Decorating My Pergola With Lights?
Apart from enhancing the aesthetic appeal of your outdoor space, decorating a pergola with lights brings a few practical benefits as well. Lights can help create an intimate atmosphere and provide enough illumination for alfresco dining or gatherings. Moreover, they make your outdoor space more secure by deterring potential intruders.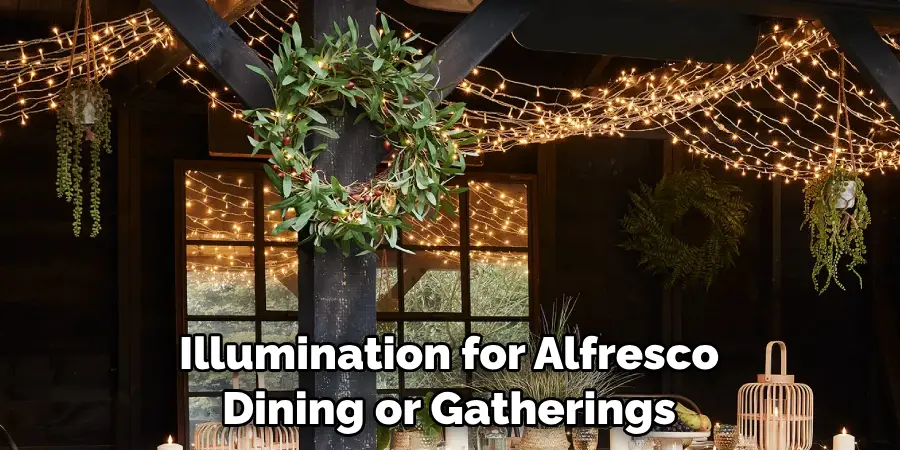 Conclusion
In conclusion, decorating a pergola with lights is a fun and easy way to take your outdoor decorations to the next level. You can choose from plenty of lighting styles and colors and creative arrangements. From cordless fairy lights to electric string lights, you can completely customize the look of your pergola.
With these tips in mind, you're ready to start your own pergola lighting project. You can find what you need at local home improvement stores or online shops that deliver directly to your doorstep. 
Take advantage of the last days of summer and brighten up outdoor areas such as a deck, patio, or gazebo with commercial-grade LED decoration for special occasions or just for a night out among family and friends. 
So why not give it a try? Get creative, pick out some lighting design pieces, and start learning how to decorate a pergola with lights today!